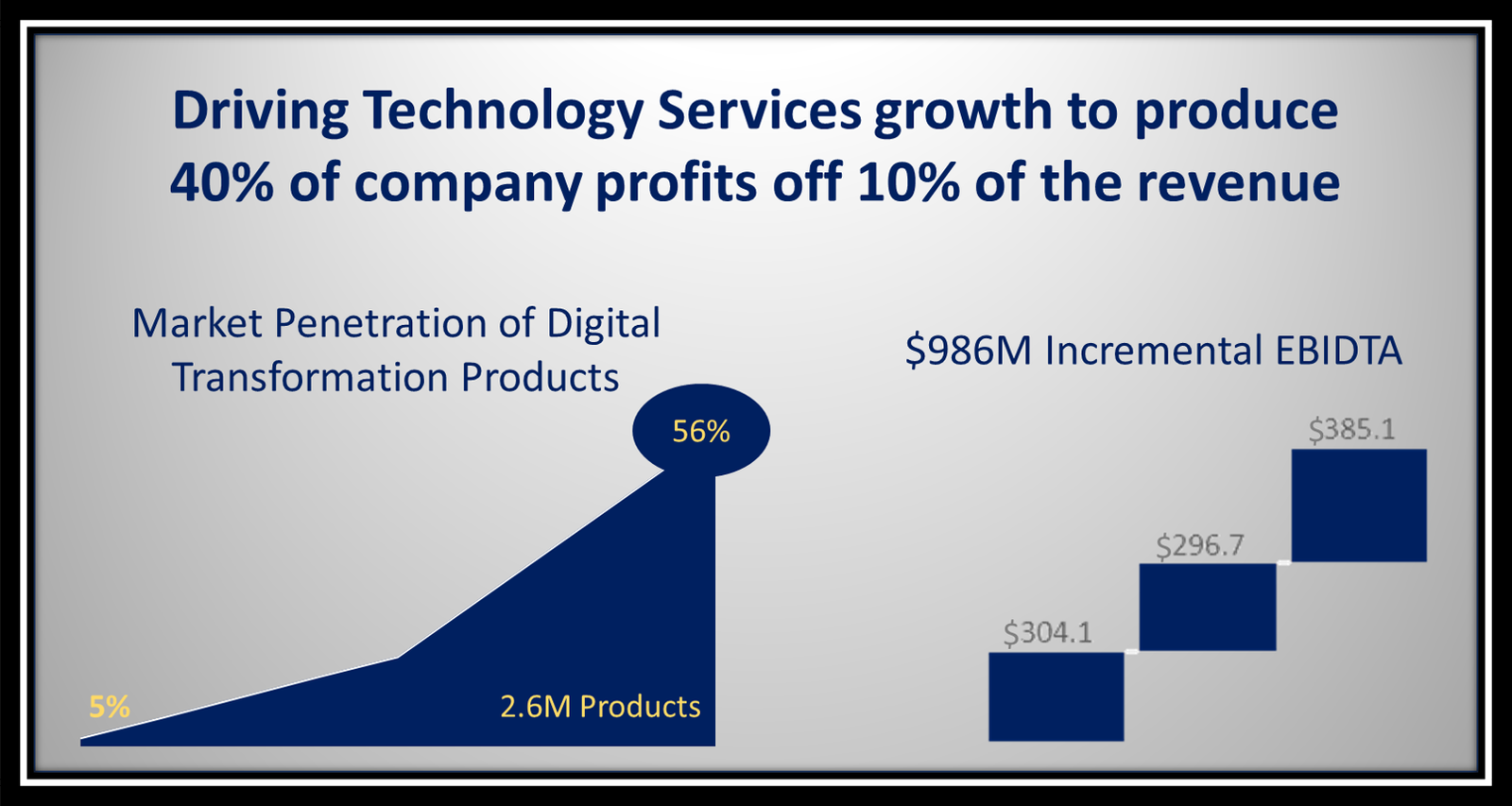 Exponential Strategy
Customer obsessed global technology & general management executive led disruptive business strategies and technology initiatives to dramatically increase stakeholder value for F50 companies & startups alike. With his exponential thinking and proprietary Transformation Labs approach Andrew pioneered new business models & tools, brought to market industry leading products at BA, Compaq, HP. Disrupted IT service industry with novel "against the grain" strategy and transformed a $10M support & service delivery business in crisis into $1B+ global success.
Operational Excellence
Orchestrated 8 major digital transformations producing remarkable financial results via superior operations. Consistently outperformed competitors with industry-leading customer satisfaction in every role. Andrew blends first principal thinking, new research & emerging technologies, innovating new methods & governance to deliver significant change with 87% success rate, 3x better than the norm.
Human Capital
A leadership coach noted for eliciting top performance & building A+ teams with organizational health audit and transformational leadership. Andrew forges trust & collaboration from boardroom to boiler room & beyond to galvanize execution & win in the marketplace. Marrying new technology with top talent grew professional services organization at 108% CAGR, added $986M EBIDTA over 3 years at HP, and slashed turnaround times from 38 days to 5 at British Airways MRO.
Expertise
Profit & Revenue Growth | Strategic Planning & Execution| Leading Change | Digital Transformation | Mergers & Acquisitions | Organizational Health & Culture | Customer Experience & Satisfaction | Multi-location/multi-cultural | Portfolio & Program Management | Engineering & IT Management | Product Management | Innovation | Field Service Delivery | Technical Support | Aftermarket Services | Manufacturing & Repair | Supply Chain Operations | Quality tools TQM, Lean Six Sigma, QA | IT Transformation | Change Management | Digital Strategy | PMO Leadership | ITIL  |  Agile Program Management | DevOps | Software Development Life Cycle | IT Policy renovation | Stakeholder Relationships | Vendor & Partner Management |
Featured Transformation Expert and Best-selling Author
Professional Experience
Leading Digital Transformations that Add Revenue, Multiply Profits, Win the War for Talent & Create Loyal Clients with 87% Success Rate
Reports: 3000+ FTE's  |  P&L: $1.35B  |  Program Budgets: $300M+  |  New Products: 47  |  Incremental Value: $4.6B annually | $3B+ new revenues
President/General Manager  |  Chief Digital Officer  |  Chief Information Officer  | Vice President Strategy & Technology  |  Head of Global Engineering  | Head of Operations | Best-selling Author
---
The Transformation Labs, Everett, WA | 2018-Present
Founder, Fractional CIO, Consultant, Executive Coach
Codified 20+ years' experience, research, and 3rd party data on transformation success, PHD Delphi research in transformation vital processes. Attained transformation success rate of 87% – 3 to 5 times better than the norm.
Conceived the Transformation Labs a sustainable blueprint that goes beyond current organizational thinking and scales from team level to have an impact enterprise wide. Reduces risk of transformation failure ~80%.
Provided digital thought leadership to develop, prioritize and influence company-wide strategic goals and objectives. Consulted, advised, & coached boards and executives from Amazon to ZF Gears, from hospitals to aerospace companies on leading digital transformation. Certified Conversational IQ Executive Coach – Advanced Practitioner.
Hybrid cloud IT model digital transformation to achieve 30-45% efficiency gains: Designed transformation of large health system with multiple independent facilities into a single operating entity and management system. Conceived new operating model with strategic core, centralized shared services, and operating units. Built out transformation plan addressed culture, org design, process standardization, enterprise-wide management system, & technology roadmap.
Technology Leadership: Championed new methodologies & tools (Agile, DevOps, CI/CD) & acted as a single point of executive oversight & coordination for digital initiatives
Writing 2nd bestselling book based on practical experience & research showcasing my Transformation Labs framework. "Digital Transformation is Dead. Learn how Companies will thrive in the next 100 yrs

.

"
---
The Monarch Group DBA Power Growth Systems, Salt Lake City, UT  | 2012-2019
President/Managing Partner Digital Transformation
Drove strategic direction, "fully digital business" concept refinement and capabilities for rapid expansion, scaled exponentially from "kitchen table" to peak of 170 staff & exit.
Architect of initial growth strategy, infrastructure and capability development.
Meteoric rise in Revenue/Consultant: 3.6x industry average and Attach Rate: 27%
Client Successes as interim CIO/CDO
Assisted non-profit in building data pipeline, database and analytics to assess end to end process performance. A single sub-process output identified as the predictor of success/failure, allowing process redesign to maximize throughput and successful outcomes.
Trusted Advisor and Thought Leadership: 3 times winner best consulting company
Doubled mental & behavioral health service capacity & slashed employee admin by 52% through eliminated paperwork, end to end automation and applied data analytics.
---
Hewlett Packard Company, Boston, MA  |  2002-2012
Head of Strategy & Technology, HP Support Services CTO
Product development & digital transformation: Automated service delivery, slashed costs 24% ($1.1B). Brought to market remote support software integrated with enterprise wide re-engineering. Solution incl. cloud, AI/ML, telemetry, IOT, Web, SOA, ERP, security & analytics. Outpaced competition in customer & partner penetration
Operational excellence: Achieved significant efficiency gains of $2.1 B in additional operating profit over 6 years, inspired innovation culture, prioritized & oversaw numerous technology adoptions & transformation initiatives
Elevated customer experience: Slashed customer workload 87.5% with innovative Platform as a Service (PaaS). Portal/App showed role dependent views of IT environment, installation, discovery & health of every IT device. Accelerated PaaS software adoption from 60K per year to 1M a year. $350M pull through revenue in 2 years
R&D Investment & innovation strategy: Negotiated 15% of company R&D spend for Services. Spearheaded research on leading edge technologies, headed development for new/emerging technologies. Integrated technology with vendors, channel partners & major customers
General Manager Service Fulfillment
Market-Lauded Growth: Conceived the vision of a fully digital organization, implemented variety of technology solutions to enable novel customer experiences & reduce need for increased overhead with growth. Expanded globally from $60M to $1.35B at triple digit growth.
Achieved warranty cost industry leadership & #1 rating in customer satisfaction
Cultural Transformation: Reinvigorated morale & elicited top performance during M&A.
Award winning customer experience: Elevated product quality 19%, achieved highest industry fulfillment rates.
Head of Global Supply Chain IT Engineering & Programs
Cut IT systems by 92% (126 to 10) and slashed annual business costs $355.6M with legacy migration, ERP deployment & digital transformation of $2B supply chain division.
Emerging Technology: Deployed global big data solution with real time closed loop quality feedback & comprehensive analytics. Dropped 90-day warranty cost by average of $860K per product launch
Won best in Industry Supply Chain Technology Award for Aftermarket Services.
---
Compaq Computers (now HP),  Glasgow, Scotland  |  1999-2002
Director Information Technology, CIO EMEA Services & Support
IT Operations: Implemented DevOps & agile, raised service desk performance to 96.1 % on time fix
Application development: Slashed costs 10%, enhanced innovation priorities & delivery, dramatically improved on-time delivery from 48% to 89.8% & 97.3% feature satisfaction.
Big Data Analytics: Oversaw design & implementation of one version of truth database, integrated data from internal systems, partners, logistics providers and vendors. Originated widespread improvement project; upped spares fulfilment to 98.8%, grew demand plan accuracy 20%, slashed warranty costs & rooted out $111M fraud.
Sr. Manager Engineering & Programs, EMEA Supply Chain & Services
Start-up & Hiring: Successfully built new 150-person team & $18M repair center relocating operations from Netherlands to UK, re-engineered and qualified vendor network & supplier base
Turnaround: Seeing major technology shifts, developed contingency plans & identified opportunities. Rescued mobile/portable product support business from $10M public relations crisis to $60M market leader with positive reputation in 2yrs with operational excellence & digital transformation strategy
Digitally transformed EMEA engineering with new technology enabled business model & management system. Dominated industry quality performance with best-in-class metrics.
---
Earlier Career:
British Airways: Head of Engineering  |  Head of MRO Operations
Royal Air Force: Aerospace & Avionic Engineering
---
Post Grad Masters in Engineering Management
BEng Aerospace & Avionic Engineering
Conversational IQ Executive Coach, Advanced Practitioner  |  Agile Program Management  |  Lean & Agile Enterprise Architecture TOGAF 9.2  |  ITIL  |  Lean Six Sigma  |  TQM  | AWS Cloud | AI/ML | Low code/No code | Data Science & Big Data Analytics

---
Organizations/Activities
Abundance 360 Emerging Technology Mastermind
Firmsconsulting Consulting Best Practices
Mental Health Advocate
Three Times Winner Best Consultant
The Monarch Group/Power Growth Systems under Andrew's leadership recognized by customers and peers as Best Consulting Company & Consultant in his market.
Recognized by CEOs of Leading Brands
For his operations leadership and successfull implementation of major transformations.
Best Selling Author
Of scientifically researched and battle-tested content, manuals for business leaders wanting to top their industry. 
Andrew's upcoming title promises to redefine how companies work and how leaders manage. Detailing how to use his propietary Transformation Lab process to develop fit and healthy organizations set to thrive in an era of unprecedented change and disruption.
What Edward Deming's quality and continuous improvement philiosphy did for businesses over the last 70+ years, Andrew Scott's Transformation Lab and continuous transformation framework will amplify for the next century.
Featured Expert and Advisor
Interviewed and showcased on podcasts, radio and tv.